It has been a while since we've had a recall (knock on wood), but today we found out about the Addiction brand dog food recall announced recently. This recall has been added to the Safe Pet Treats app so you'll be notified should you come across these products at the pet store the next time you scan the barcode.
Addiction Foods, a Kent-based pet-food company, says it is recalling 355 cases of its canned dog foods after testing showed elevated levels of Vitamin A and a slight variance in calcium / phosphorous ratios.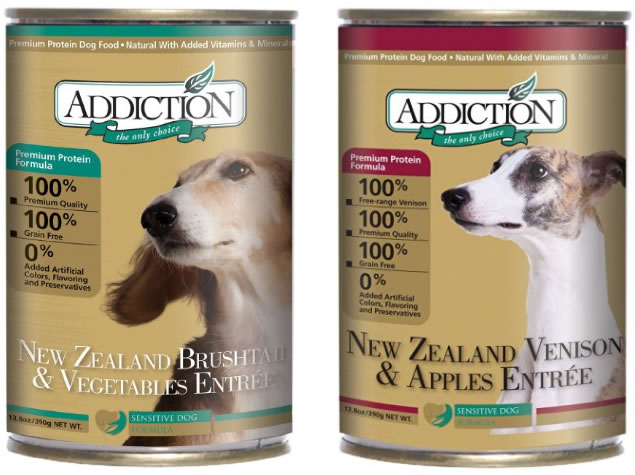 The company, whose food is manufactured at its plant in New Zealand, says the cans were shipped to distributors and online retailers between Feb. 11 and March 19 and include:
Addiction New Zealand Brushtail and Vegetables Canned Dog Food Entrée
size 13.8oz/390g
UPC code 8 885004 070028
lot number 8940:02Dec2018
expiration date December 2018
Recalled: 8 case
Addiction New Zealand Venison and Apples Canned Dog Food Entrée
size 13.8oz/390g
UPC code: 8 885004 070462
lot number 8936:01Dec2018
expiration date December 2018
Recalled: 347 cases
Exposure to excessive Vitamin A levels for an extended period of time may cause health problems in young, growing animals. If dogs were fed these products exclusively for 60 days, owners could notice a decrease in appetite.
Consumers are asked to discontinue use of the product, and unused cans may be returned to the place of purchase for a full refund. Consumers may contact the company at 425-251-0330 or via email at info@addictionfoods.com.
Be sure to join the Safe Pet Treats email list to receive recall alerts and mobile app updates.
Comments
comments