Loving Pets of Cranbury, NJ is voluntarily recalling a limited number of dog treats because of the potential to be contaminated with Salmonella bacteria. All 7 of these products have been added to the Safe Pet Treats app so scan your pet food with confidence!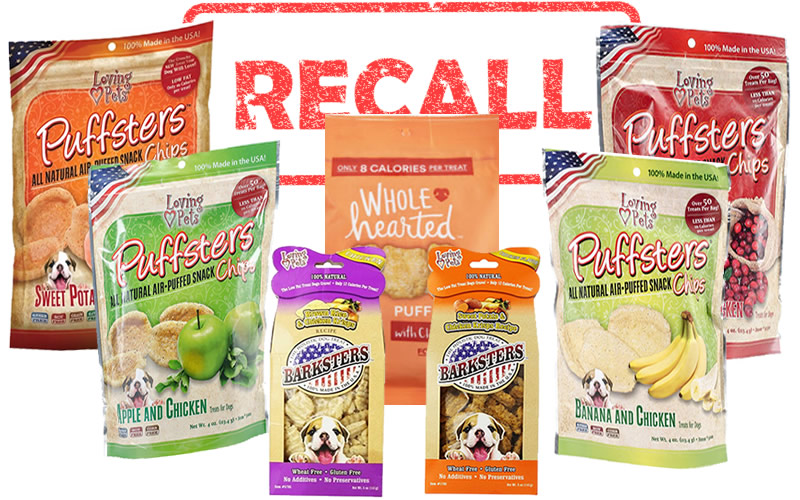 Loving Pets Barksters™
Item #5700 Sweet Potato and Chicken UPC 842982057005 – Lot # 021619
Item #5705 Brown Rice and Chicken UPC 842982057050 – Lot 021419
Loving Pets Puffsters™ Snack Chips
Item #5100 Apple and Chicken UPC 842982051003 – Lot 051219, 112118, 112918, 012719, 012519, 013019
Item #5110 Banana and Chicken UPC 842982051102 – Lot 112218, 112818, 112918, 013119
Item #5120 Sweet Potato and Chicken UPC 842982051201 – Lot 112818, 020119
Item #5130 Cranberry and Chicken UPC 842982051300 – Lot 020319, 112918, 020219
Whole Hearted™
Item #2570314 Chicken and Apple Puff Treats UPC 800443220696 – Lot 121418, 121918, 122318, 010419, 010619, 010519
The following can be found on the manufacturer's website.
Out of an abundance of caution, Loving Pets is voluntarily recalling a limited number of dog treats, due to possible Salmonella contamination.
No illnesses, injuries or complaints have been reported.
The possible Salmonella contamination was due to a single finished ingredient that was supplied to Loving Pets from a USA based supplier.
This possible contamination was discovered by Loving Pets' internal quality assurance team and was identified through the company's standard quality control testing procedures and internal food safety program. Loving Pets produces its treats in small batches, in order to offer the highest quality and control in safety.
To ensure the safety of its products, Loving Pets decided to be extra cautious and recall a wider range of lot numbers (noted below) so that no possible contaminated product is available on the market.
Consumers may return any bag of treats with any of these aforementioned lot numbers to the retailer where the product was originally purchased. For additional information, please call Cathy Vesey at 866-599-PETS (7387).
Comments
comments