The CBD & Hemp Oil for Pets recall is voluntary by InHe Manufacturing, LLC and MHR Brands. This recall includes several of their brands due to the potential health risk for excess lead related to graduated droppers provided by a third-party packaging supplier.
No UPC's were provided with this recall. For brands that have their UPC's available on their website, we have added those products to the Safe Pet Treats App with the UPC numbers. See all brand and product details below.
This recall has been added to the Safe Pet Treats app. Available on iTunes and Google Play.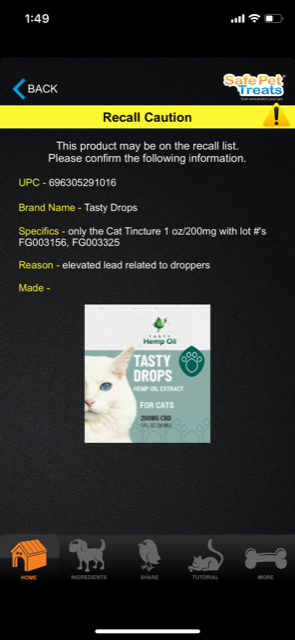 From the FDA Website:

This recall press release was issued by the firm on 06-23-2020 and is subsequently being posted by FDA at this time only to benefit the public for informational purposes.

How the company learned of this situation: The Company was recently advised by the Florida Department of Health of the presence of elevated heavy metals (lead) in some of its products. In response to this information, the Company undertook an investigation and determined that the issue related to graduated droppers provided by a third-party packaging supplier.
Exposure to lead could present physical signs and symptoms including, pain, paresthesia/muscle weakness, abdominal pain, nausea, vomiting, diarrhea, constipation, poor appetite, weight loss, symptoms associated with encephalitis, metallic taste in the mouth, shock, hemolysis or kidney damage.
In response and in conjunction with the regulatory authorities, the Company:
issued a voluntary nationwide recall of the affected products, providing every customer with replacement products at no cost to the customer; and
retained a replacement third-party packaging supplier for all replacement and future products.
Discontinue use of graduated droppers in the future.
Prior to notifying customers of this recall, MHR Brands had not received any reports of adverse health effects regarding the recalled products. Consumers should contact their physician or healthcare provider if they experience any symptoms that may be related to using the products being recalled. Consumers should observe pets and contact their veterinarian as signs and symptoms of lead exposure in pets may be similar to those in humans.
Immediately examine your inventory and quarantine product subject to this recall. In addition, if you may have further distributed this product, please identify your customers and notify them at once of this product recall. Your notification to your customers should include a copy of this recall notification letter.
Product Disposition: Return the product to the Company or destruction.
This recall should be carried out to the consumer level. Your assistance is appreciated and necessary to complete this recall.
MHR distributes nationally directly to consumers thorough internet sales and is currently notifying all customers about the ongoing recall directly. The Company also manufactures for other marketers and is notifying those customer of this issue and the identified LOTS urging return of the product to the Company or place of purchase for a free replacement or to contact MHR Brands at 844-300-5673 Mon.-Fri. 9am-5pm (EST) or by email at recall@mhrbrands.com.
While this recall is being made with the knowledge of the Food and Drug Administration, FDA does not endorse any products subject to this recall notice.
Media Contact: Members of the media can contact the Company at 954-773-9456.
The company is dedicated to delivering healthy products of the highest quality and purity, is urging consumers to return any affected merchandise for a free and safe replacement.
Reference: https://tastyhempoil.com/recall-release/External Link Disclaimer and https://madebyhemp.com/recall-release/External Link Disclaimer accessed on 07/17/2020
RECALL PRODUCT DETAILS for Pet Products Only:
Pet Consumption (MHR Brands)
Tasty Drops – Cat Tincture 1oz/200mg – FG003156, FG003325
Tasty Drops – Dog Tincture 1oz/200mg – FG003157, FG003286, FG003324
Purfurred – Dog Tincture, 1oz/200mg – FG003188
Made by Hemp – Cat Tincture, 1oz/200mg – FG003178
Made by Hemp – Dog Tincture, 1oz/200mg – FG003179
Pet Consumption (White Label)
Herbal Renewals – Cat Tincture, 1oz/200mg – FG003213
Herbal Renewals – Pet Blend, 1oz/200mg – FG003223, FG003310
Barkley Bistro – Dog Tincture, 1oz/200mg – FG003145
A Clean Choice – Cat Tincture, 1oz/200mg – FG003117
A Clean Choice – Cat Tincture, 500mg/1oz. – FG003118
A Clean Choice – Dog Tincture, 1oz/200mg – FG003116
A Clean Choice – Dog Tincture, 500mg/1oz. – FG003115
BC Hemp Co LLC – Pet Tincture, 1oz/200mg – FG003165
Boost IV Hydration, LLC – Dog Tincture, 1oz/200mg – FG003270

Acadia Farms – Pet Blend, 1oz/200mg – FG003176
Comments
comments