The Nom Nom cat food recall is a voluntary recall being done by the company because of a recall issued by their supplier, Tyson Foods Inc. Certain chicken products produced by Tyson are potentially contaminated with Listeria monocytogenes.

The recall is only for the Chicken Cuisine for Cats with pouch sizes 50g, 70g, 90g, & 110g and with Lot #'s 18700, 18714, 18728, 18742, 18756, and 18770. No UPC's were provided for this recall.

This recall has been added to the Safe Pet Treats app.  Available on iTunes and Google Play.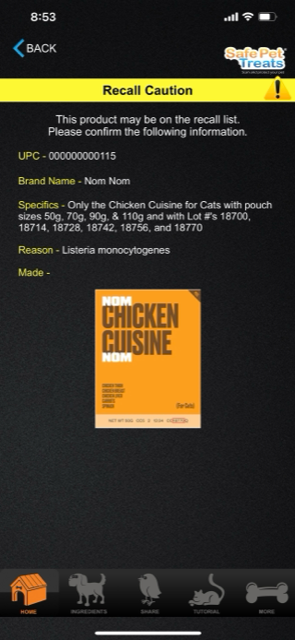 The following recall notice was sent by Nom Nom to customers on July 8, 2021:
We're writing to advise you that Nom Nom is voluntarily recalling certain lots of Chicken Cuisine cat food produced by Nom Nom between March 8, 2021 and May 17, 2021 because of a recall issued by our supplier, Tyson Foods Inc. Certain chicken products produced by Tyson are potentially contaminated with Listeria monocytogenes. The recall primarily affects chicken sold for human consumption at various retailers and food service establishments, and we encourage you to review the full list here to ensure you did not purchase any other affected products.
Only certain lots are at risk of being contaminated: Lots 18700, 18714, 18728, 18742, 18756, and 18770. The lot number is found at the bottom of the bag label (see below). If you have one of the affected lots, please stop feeding it to your pet immediately, take a photo, and email us.
While we wish we were writing under better circumstances, we want to assure and then reassure you that we are writing from a place of transparency, a desire to provide you as much information as possible, and a continued commitment to the health of your cat.
Reason for the Voluntary Recall
We are issuing a voluntary recall after consultation with the FDA following notice from one of our suppliers, Tyson. According to Tyson and the USDA, some of the chicken used in our Chicken Cuisine for Cats is subject to a broad recall for potential contamination with Listeria monocytogenes. Our records show you may have Chicken Cuisine for Cats which may contain the impacted lots that were made with Tyson ingredients. You can find those lot numbers in the table below. The recall is being initiated as a precautionary measure and in keeping with our commitment to food safety.
If you have already fed the impacted food and there is none in your possession, there is no ongoing risk to you or your cat under this recall.
No other products or lots of dog or cat foods produced by Nom Nom are affected by this recall.
Risk to Health
At this time, Nom Nom has had no reports of cats or cat parents being affected by Listeria monocytogenes after feeding our product.
In a continued effort to provide you with the most helpful information possible, we want to share a little more about Listeria monocytogenes. It is a common bacteria found in the environment that can grow under refrigerated conditions. However, symptoms in cats are rare after exposure; according to the FDA fact sheet, "L. monocytogenes rarely cause disease in dogs and cats and, even when infected, pets usually have only mild gastrointestinal signs, such as diarrhea and vomiting. However, more serious signs are possible, such as fever, muscle pain, breathing problems, pregnancy loss, and even death." Again, we have had no reports at this time of Listeria monocytogenes infection in any cat that was fed our Chicken Cuisine for Cats.
Listeria monocytogenes can affect animals eating contaminated products and there is a potential risk to humans handling contaminated pet products. Exposure to L. monocytogenes can cause listeriosis in humans, a serious infection that primarily affects older adults, persons with weakened immune systems, and pregnant women and their newborns.
Actions to be Taken by You, Our Customer
If you should find any food from the affected lots below, please stop feeding the affected product immediately and destroy the food by placing it into a secure trash can for the earliest disposal. In an effort to track affected food, please kindly contact us by responding to this email with a photo of the food bag with lot code, including approximately how many affected meal bags you still have on hand, or call us at 415-991-0669.
Comments
comments