What the Raw has voluntarily recalled 184 containers of their Single Dried Sardines due to potential Clostridium Botulinum contamination.
There has not yet been an FDA recall notice. The information for the recall is from the Enforcement Report. It states that uneviscerated whole dried sardines used in raw pet food have been recalled to due potential contamination with Clostridium botulinum, the bacteria that cause botulism.
There have been no confirmed illnesses linked to the products at this time.
The recalled products are packaged in shrink wrap, individually sold, with no labeling on product.
No UPC or pictures were provided with this recall.
This recall is only for the Single Dried Sardines with the following Lot Numbers & Expiration Dates:
Lot Numbers: 250402202223, 121110202122, 210510202324, 141228202223, 210620202324
Expiration Dates: 11/10/22, 04/02/2023, 12/28/2023, 05/10/2023, 06/20/2024

This recall has been added to the Safe Pet Treats app.  Available on iTunes and Google Play.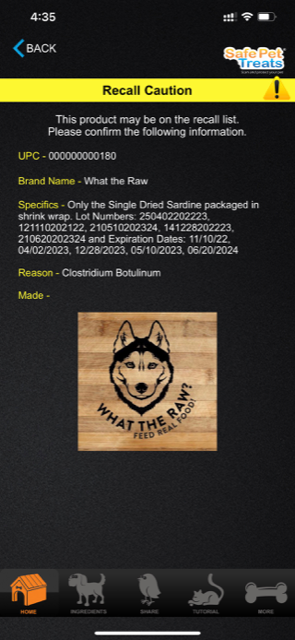 Comments
comments