The Whiskas recall is a voluntary recall by Mars Petcare Canada. Out of an abundance of caustion, they are voluntarily recalling a limited number of bags of WHISKAS® Dry Cat Food products because they were made with raw ingredients that were outside of stringent internal quality specifications.

Affected product was distributed to retail customers throughout Canada. Mars Petcare is working with all distributors and retailers to ensure that the affected products are no longer sold and are removed from inventory.

Please see below for the product list.

This recall has been added to the Safe Pet Treats app. Available on iTunes and Google Play.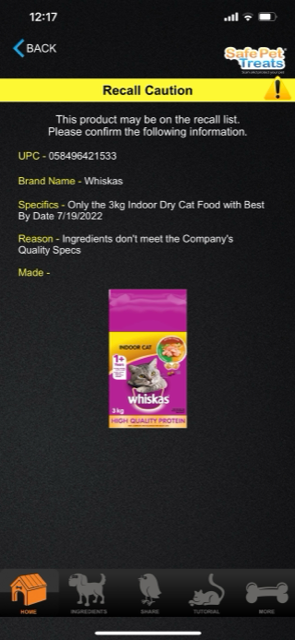 From Whiskas Canada Website:
Voluntary Recall of Limited Number of Whiskas Dry Cat Food Products in Canada
At Mars Petcare, product quality and food safety for the pets we feed is our top priority. Out of an abundance of caution, we have decided to recall a limited number of bags of WHISKAS dry cat food in Canada because they were made with raw ingredients that do not meet our stringent internal quality specifications.

The list below identifies affected product by "BEST BY" date. If you have purchased this product and have questions, you can contact us at 1-800-667-2424 between the hours of 9:00 a.m. – 9:00 p.m. EST weekdays and 9:00 a.m. – 5:00 p.m. EST weekends.

The list below identifies affected product by "BEST BY" date. This information will appear on the front of the bag as shown here

| | | |
| --- | --- | --- |
| PRODUCT DESCRIPTION | UPC | "BEST BY" DATE |
| WHISKAS® Meaty Selections™ Dry Cat Food 670g | 0 58496 43320 8 | 6/13/2022-7/19/2022 |
| WHISKAS® Meaty Selections™ Dry Cat Food 2kg | 0 58496 70322 6 | 6/23/2022-8/12/2022 |
| WHISKAS® Meaty Selections™ Dry Cat Food 4kg | 0 58496 70124 6 | 7/17/2022-8/12/2022 |
| WHISKAS® Meaty Selections™ Dry Cat Food 9.1kg | 0 58496 70329 5 | 6/16/2022-8/17/2022 |
| WHISKAS® Meaty Selections™ Dry Cat Food 11.6kg | 0 58496 44481 5 | 6/24/2022-7/22/2022 |
| WHISKAS® Beef Selections™ Natural Beef Flavour Dry Cat Food 2kg | 0 58496 43351 2 | 6/25/2022-8/6/2022 |
| WHISKAS® Beef Selections™ Natural Beef Flavour Dry Cat Food 9.1kg | 0 58496 43353 6 | 8/13/2022 |
| WHISKAS® Seafood Selections™Natural Salmon and Shrimp Flavour Dry Cat Food 2kg | 0 58496 70332 5 | 6/25/2022-8/18/2022 |
| WHISKAS® Seafood Selections™ Natural Salmon and Shrimp Flavour Dry Cat Food 4Kg | 0 58496 02681 3 | 8/9/2022-8/10/2022 |
| WHISKAS® Seafood Selections™ Natural Salmon and Shrimp Flavour Dry Cat Food 9.1kg | 0 58496 42152 6 | 6/26/2022- 8/13/2022 |
| WHISKAS® Tuna Selections™ Natural Tuna Flavour Dry Cat Food 9.1 kg | 0 58496 43469 4 | 6/25/2022-8/7/2022 |
| WHISKAS® Kitten Dry Cat Food 1.5kg | 0 58496 70310 3 | 7/18/2022 |
| WHISKAS® Indoor Dry Cat Food 1.5kg | 0 58496 23285 6 | 6/23/2022-7/19/2022 |
| WHISKAS® Indoor Dry Cat Food 3kg | 0 58496 42153 3 | 7/19/2022 |
Comments
comments